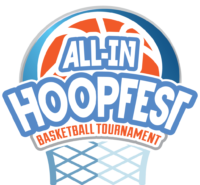 July 20-22, 2018
Louisville, KY
Details
Who:
Boys Teams
7th Grade – 12th Grade
When:
July 20-22, 2018
Cost:
$495 Per Team
Registration Deadline
July 4, 2018
Experience and Organization
The 2018 All-In Hoopfest is brought to you by Ohiobasketball.com and Ohio Basketball Club. Combined we have over 50 years of experience organizing unique sporting events for players of all ages. We're talking more than 2000 teams participating in our exposure events and over 1000 different college programs that attended events ran by our group, giving us the most reach of any tournament event organizer in the United States.